Venturi Scrubbers
The venturi scrubber is an increasingly popular and effective method of particulate collection. Entrained particles are collected in the venturi while agglomerated droplets are collected in the separator and mist eliminator. It is important that both particulate collection and mist elimination are optimized in order to maximize removal efficiency.
The Macrotek Annular Throat Flooded Disc Venturi Scrubber (MVA) is designed for applications with varying airflows, particularly where abrasive or sticky particulate is being collected. Water is introduced onto an annular disc through a central pipe. The supply pipe and water distribution cap have large openings which allow for distribution of re-circulating liquid with minimal possibility of plugging. Water flows outward on the disk to the annular throat. The water is sheared into tiny droplets which collect entrained particulate by impaction.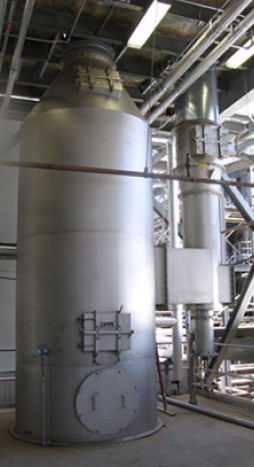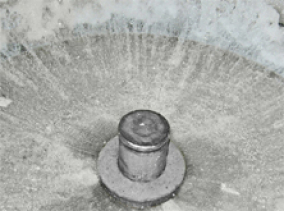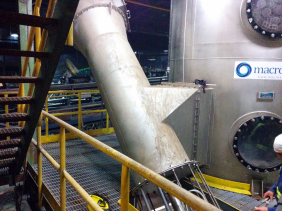 Feautures:
Exceptionally high removal efficiencies.
Scrubber throat is manually or automatically adjustable to permit fine tuning pressure drop in the field.
Wetted inlet which reduces abrasion and avoids wet/dry interface buildup.
Flooded elbow design which eliminates abrasion due to high gas velocity.
Easily accessible throat section for routine maintenance and component replacement.
Continues to exceed industry standard for venturi scrubbers.
Repeatedly outperforms conventional venturi designs.
Fully customized, site-specific package, including fan, re-circulating liquid system, and controls.
Applications:
The Macrotek MVA Flooded Disc Venturi Scrubber excels in a flexible range of particulate collection, especially sub-micron.
Please contact us for details on specialized and unique applications.
See the following applications for more details.